Interested in becoming a Product Vendor?
We will accept applications up until the deadline of June 23rd, 2022, or until all available spaces are full. A late fee of $150 will be imposed for applications submitted and accepted after June 23rd, 2022. Placement priority is first based on the order of applications received. You must submit/mail the completed application, along with one check for the vendor fee. Including a photograph of your booth and signage is strongly encouraged. You will be notified of acceptance no later than June 24th, 2022. Once accepted, you will receive a participant packet with set-up information prior to the event. There will be no refunds available once accepted to AutoMania, as all funds are fully committed to the production, promotion, and marketing of the event.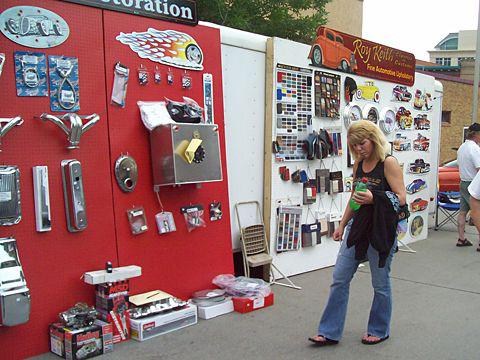 The following AutoMania guidelines are provided for your benefit. Please help us to make this event a great success by cooperating. Following the AutoMania guidelines is a list of permits or licenses that you as a vendor may or may not need. If you have any questions about AutoMania 2022 or any of the Guidelines, please contact us at 855-386-1275 or info@automaniaatspringbrooke.com.
Each vendor is responsible for supplying their own electricity, generator, tables, chairs, a canopy, equipment, a garbage receptacle and other needs for operations.
Each vendor must keep the area surrounding their booth location clean during the event. Vendors will also be responsible for cleaning the immediate area after the event, before they leave. Designated dumpster locations will be provided.
Instructions concerning the exact time and location in which vendor space may be accessed will be sent to applicants prior to the event. All vendors must be completely set up and ready for business by 11 am on the Saturday of the 25th of June, 2022.
Vendors must have liability insurance for this event. At the time of application, we ask that you submit a copy of your General Liability Insurance certificate listing "AutoMania" as additionally insured. No one will be allowed to vend at AutoMania without this proof of liability.
After all applications have been received, product vendors will be notified of acceptance and will receive information from AutoMania including a map giving the location assigned to each product vendor.
Food Vendor Application (We are full for 2022, you can be added to a list for 2023)